With over a dozen historic sites of national significance and numerous others of local interest, the Bay of Fundy has lots of legends, tales of war and cultural anecdotes to share with its guests. Whether taking a step back in time to the Acadian Deportation of 1755 at Grand Pré National Historic Site near Wolfville, NS or to a time where strained relations forced an incredible battle between Great Britain and the United States at sites such as Carleton Martello Tower in Saint John, NB, visiting these historic sites is not only educational but truly fascinating.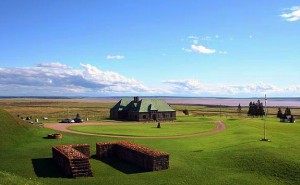 Other great historic sites include Fort Beauséjour near the New Brunswick/Nova Scotia border which tells first of France and Britain's fight for control of Eastern North America and later of the same fight between Britain and the American colonies, one of North America's earliest settlements dating back to 1605 in Port Royal, NS and the oldest surviving blockhouse in Canada at Fort Edward near Windsor, NS.
Also, as so many forts and towers were built overlooking the waters of Fundy, to observe activity and protect their respective towns from intruders, many of these historic sites offer stunning, panoramic harbour views. Check out our complete listing of all the historic sites the Bay of Fundy has to offer.
This was the 16th article in our "52 Reasons to visit" series. Take some time to read our next reason: Lighthouses, or last week's reason: Fundy Isle Island Hopping. We also think you may want to take a look at the overview of all the articles in this series and use our RSS feed so you won't miss any further articles!