There are a number of historic churches to be found within the communities that line the Bay of Fundy. Along Nova Scotia's French Acadian Shore, discover one of the finest and most celebrated Acadian churches. An engineering marvel, St. Mary's Church was built between 1903-1905 in the form of a cross and is the tallest and largest wooden church in North America (ExploreNovaScotia, 2011).
The lofty church spire reaches a height of 56.36 meters (185 feet), with its cross adding another 1.67 meters (5.6 feet). The surface area of the church covers 2,207 square meters (23,780 square feet). The steeple holds three bronze bells imported from France, weighing 1,694 kilograms (3,740 pounds).
The church is exposed to the strong winds from St. Mary's Bay, so 36.24 metric tons (40 English) of stone ballast is used to stabilize the steeple. Because the structure's walls will still move they used canvas, rather than plaster, for the walls.
With its striking beauty and magnitude, St. Mary's Church attracts thousands of tourists annually. Among treasures and furnishings of note to visitors are a precious reliquary, exquisitely crafted by an Acadian artist from the region, and a fine collection of religious and liturgical artifacts exhibited in the museum room (established in 1970). This museum inside the church is open to the public (they recommend modest donation of $2 per person for admission) daily from mid-May to mid-October between the hours of 9 a.m. and 5 p.m.
In New Brunswick the City of Saint John is home to many churches with interesting histories of their own including St. John's Church, Trinity Church and the Church of St. Andrew and St. David – all located within the city centre.
St. John's Church, located on Carleton Street, is locally referred to as the "Stone Church" and has been a national historic site since 1987. The first stone structure built in Saint John, this Anglican church was completed in 1825 with stone that was brought as ballast from England (Tourism Saint John, 2010.)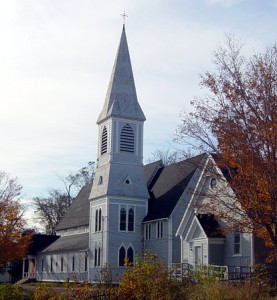 Trinity Church, also an Anglican church, is found a few blocks away on Charlotte Street. The original Trinity Church, which was constructed of wood, was destroyed by the Great Fire of Saint John in 1877. The present building was built of a limestone and granite in 1880 based on the plans of Montreal architect W.T. Thomas. Tours of the church are available and visitors have an opportunity to view the Royal Coat of Arms of the House of Hanover, dating back to the early 1700s. (Trinity Anglican Church, 2011.)
Finally, the Church of St. Andrew & St. David was built in 1878/79, to replace the original structure that was also destroyed in the Great Fire (Tourism Saint John, 2010). This Germain Street church is a Presbyterian Church.
This was the 19th article in our "52 Reasons to visit" series. Take some time to read our next reason: Birds, or last week's reason: Acadian Heritage. You'll also want to take a look at the overview of all the articles in this series and use our RSS feed so you won't miss any further articles!